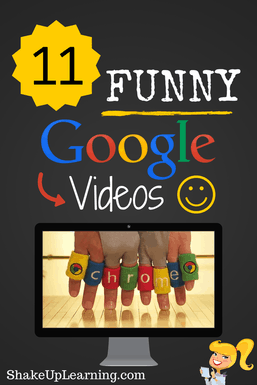 A YouTube Playlist of Funny Google Videos!
One thing you should know about Google is they like to make fun of themselves. In a world of towering tech giants with big egos, I appreciate the fact that Google doesn't take itself too seriously.
Around April Fool's we often get a glimpse into the more humorous side of Google. Each year they publish an April Fool's video poking fun at themselves and technology in general. The videos are professionally made, usually have the commercial look of the Google brand, and often feature some very famous faces from Hollywood. I love to use these videos to kick off a Google training!
As the school year kicks off, take a breath and laugh a little or laugh a lot! We all need it!
---
Classroom Application Idea: 
Use one of the videos, like "

Google Nose

," as a writing prompt: What if Google Nose was a real application? What are the implications for our world? How would you use it?
Click here to view the playlist on YouTube, or watch embedded below.
Enjoy!
11 Funny Google Videos


What are your favorite funny Google videos? Please share in the comments below.
Subscribe to this blog to get all the latest posts:
© Shake Up Learning 2022. Unauthorized use and/or duplication of this material without express and written permission from this blog's author and/or owner is strictly prohibited. Excerpts and links may be used, provided that full and clear credit is given to Kasey Bell and Shake Up Learning with appropriate and specific direction to the original content on ShakeUpLearning.com. See: Copyright Policy.