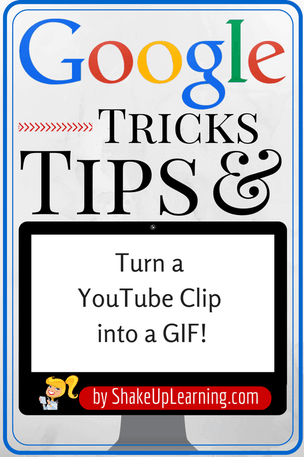 Animated GIF images are so much fun, and can make it really easy to show students and teachers how to do things. This is an easy trick using a tool called GIFYT. Simply type the letters GIF after www., and before youtube, and you will be directed to the site to create our GIF. These GIFs can be up to 15 seconds long, and you can select the exact portion of the video you wish to use. See the example and steps below.
[Tweet "Whaaaat!!! Turn a YouTub clip into a GIF!"]
---
Step 1: Using your browser, locate the video on YouTube that you wish to convert to an animated gif image.
Step 2: Type, "gif" between the "www." and "youtube" portion of the URL (see below).
---

Step 3: You will be taken to a configuration window. Using the slider select the portion of the video you wish to convert, and select the duration (up to 15 seconds).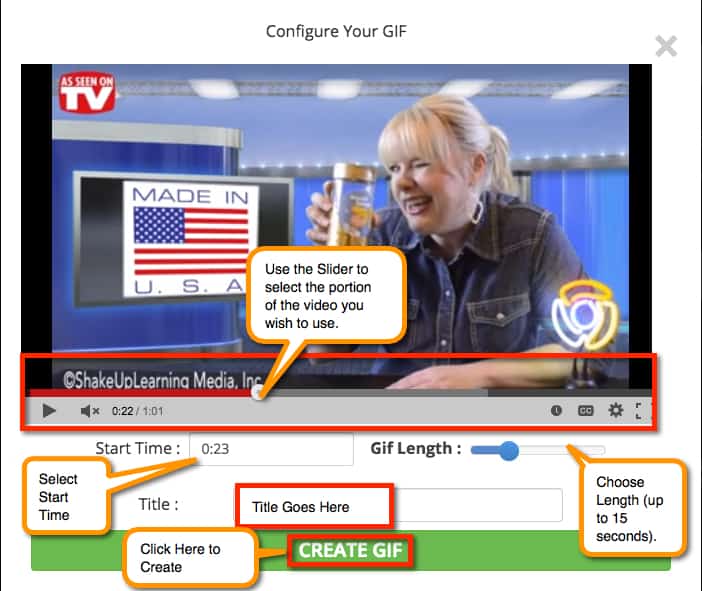 (I know how silly I look! I can't wink ;).)
Step 4: Add a title and click create! Voila! You did it! Remember that animated GIFs will only work if they are linked or embedded, so grab the link or embed code and add it to your website, blog, Google Doc or Google Slide. (See my silly example from my GTA application video below. I used the embed code which also ties in some extra links and social media options.)
What are your favorite ways to create or use animated GIF images? Please share in the comments below!
Kasey Bell will be presenting at the following upcoming events:
#TechUpTxState EdTech Conference at Texas State University

 (San Marcos, TX)

#GoogleEduOnAir (May 8-9)

#TXGoo15, May 16: Texas Summit feature Google for Education (New Caney, TX)
TCEA Area 16 Conference Jamboree, June 4 (Amarillo, TX)
Prosper ISD Tech Conference, June 10 (Prosper, TX)
Speed 21 Conference, June 11 (Wylie, TX)

Texas ASCD Ignite

, June 15-17 (Irving, TX)
iPadpalooza, June 23-25 (Austin, TX)
ISTE, June 28-July 1 (Philadelphia, PA)

TIA 2015

, July 21-22 (Denton, TX)
© Shake Up Learning 2022. Unauthorized use and/or duplication of this material without express and written permission from this blog's author and/or owner is strictly prohibited. Excerpts and links may be used, provided that full and clear credit is given to Kasey Bell and Shake Up Learning with appropriate and specific direction to the original content on ShakeUpLearning.com. See: Copyright Policy.