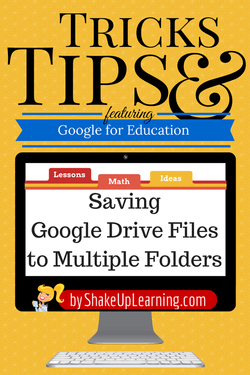 Saving Google Drive Files to Multiple Folders
Google Apps and Google Drive in particular are full of great features. I love to share tips and features that have made my life, work, and classroom easier. This week's tip is one that I only recently learned. (Not sure how i missed this!)When organizing your Google Drive into folders, it can be difficult to decide exactly where to save certain files. For instance, would the draft of this blog post go in my "Blog" folder, or my "Google Tips" folder? File folders really only imitate the old way of doing things. With folders in Google Drive you can do more! You can add files to multiple folders.
This allows folders to act more like tags
, which is much more useful.
To move a file into a folder, click on the folder icon in the document or from your drive management window.
---
---
Click on the folder name to select the folder you want to move the file into. To add the file to multiple folders, hold the control key (Windows) or the command key (Mac) as you click to select multiple folders. Then click Move to save your changes.
Note: When you add files to multiple folders, you are not making multiple copies. There is still only one copy that is connected to all of the folders you have designated, like a tag.
Below is a more in-depth video from Google Gooru to explain the concept.
What are your favorite Google tips? Please share in the comments below, and look for a new tip every week.
Kasey will be presenting at the following events this summer:
© Shake Up Learning 2022. Unauthorized use and/or duplication of this material without express and written permission from this blog's author and/or owner is strictly prohibited. Excerpts and links may be used, provided that full and clear credit is given to Kasey Bell and Shake Up Learning with appropriate and specific direction to the original content on ShakeUpLearning.com. See: Copyright Policy.