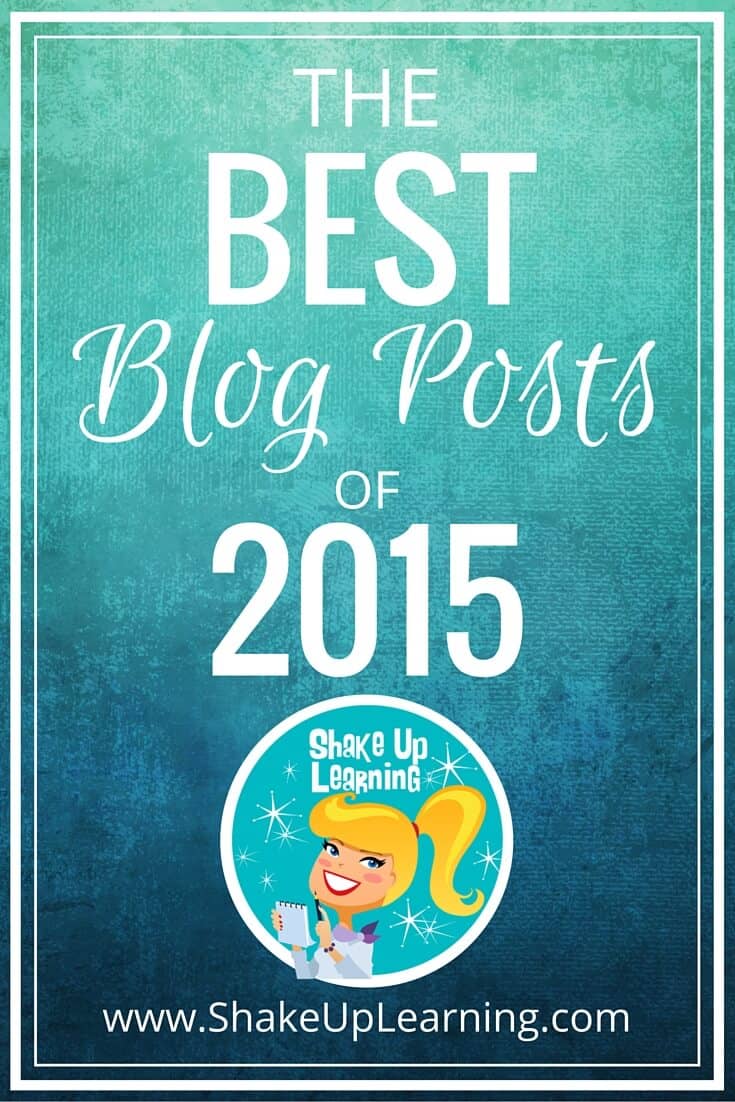 2015 has been such a fun and exciting year! As Shake Up Learning nears its second anniversary, I want to reflect, learn and find new ways to serve teachers and students. I have put together a list of the most popular Shake Up Learning blog posts of 2015. These are the top blog posts with most views and comments.
The goal of this blog has always been to provide teachers with educational technology resources, tips and tricks, and help teachers find ways to integrate technology meaningfully in the classroom. I will use this list of top blog posts to reflect and create content for the coming year. I am a firm believer in the continuous improvement model. I am planning 2016 content right now, and I want to make Shake Up Learning the best it can be.
I also want to make sure to serve my audience! To give you more of what you want, I have also included a short 60-second survey at the bottom of this post. This survey is your chance to chime in, and let me know how I can better serve you and your students.
Below is the list of the Top 20 Most Popular Blog Posts of 2015 from Shake Up Learning.  Did your favorite make the list? If not, be sure to let me know in the comments.
[Tweet "The Top 20 Blog Posts of 2015 #edtech #googleedu #gafe"]
---
Top 20 Most Popular Blog Posts of 2015
Back to School with Google Chrome – The Complete Guide

20 Google Chrome Apps & Extensions for School Leaders

Halloween Magnetic Poetry

4 New Google Certifications! Plus a New Training Center!

20 YouTube Channels for Educators

You're Doing it Wrong! How to Manage Multiple Google Accounts

Force Users to Make a Copy of a Google Doc

The Teacher's Guide to Google Classroom eBook! (FREE BONUS: Student Quick Guide

)

Google Sheets CHEAT SHEET for Teachers & Students

3 Google Chrome Apps for Leveled Reading

Fantastic Google Chrome Apps and Extensions for Teachers and Students

Interactive Learning Menus (Choice Boards) Using Google Docs

Maximize Google Drive on the iPad

The Golden Treasures of Google – Part 1: (Google Maps, Streetview and Google Earth

)

The Guide to Keeping Up with Google – Part 1: The #Google Hashtag Dictionary

Winter Magnetic Poetry with Google Slides

Google Drawings Cheat Sheet for Teachers & Students

Collaborative Magnetic Poetry with Google Drawings

Take PD to the Next Level with Badges

Get Your FREE Google Cheat Sheets eBook
---
---
© Shake Up Learning 2022. Unauthorized use and/or duplication of this material without express and written permission from this blog's author and/or owner is strictly prohibited. Excerpts and links may be used, provided that full and clear credit is given to Kasey Bell and Shake Up Learning with appropriate and specific direction to the original content on ShakeUpLearning.com. See: Copyright Policy.